Looking for the Latest in Genuine Ford Parts? Come See What We Have to Offer Here at Donnell Ford in Youngstown, OH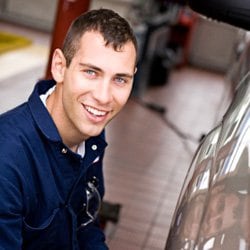 Here in Ohio, there are any number of places to shop for auto parts. In fact, you could drive from Boardman to Austintown, Ohio and pass by practically dozens of auto parts stores on the way. However, if you're looking to get the most out of your Ford vehicles for years to come, you should know that nothing available at those generic auto parts shops will suffice. Fortunately, here at the Donnell Ford Service Center, we have one of the most comprehensive selections of genuine OEM Ford parts you're likely to find near Austintown and Poland, OH, and we'd love to help you find all the components you're looking for.
Why Choose Genuine Ford OEM Parts Over Aftermarket Alternatives?
Ford vehicles are renowned for reliability, but if you want to maintain their performance in the long-term, there's simply no substitute for genuine OEM Ford parts. Compared side-by-side, the genuine Ford parts we have for sale our service center near East Liverpool and Austintown are miles ahead in terms of overall quality and engineering. What's more, our vast selection of genuine Ford parts ensures we'll nearly always have exactly what you're looking for, from brake pads to replacement headlights to all-weather floor mats perfectly fitted to your Ford vehicles.
Order Your Genuine OEM Ford Parts Online Today!
Now, we know that there are plenty of folks out there in Canfield and Poland, OH who love to do their own auto repairs. So, if you're in need of genuine Ford parts for your DIY repairs, you can easily request parts online right on this page. Alternatively, you could always set an appointment with our Ford service center here in Youngstown, Oh and rest easy knowing that all your maintenance and repairs will be completed using genuine OEM Ford parts.
---