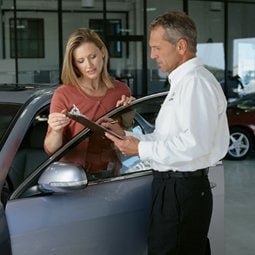 Find Quality Ford Car Service in Youngstown, OH at Donnell Ford - Oil Changes, Tire Rotations, Maintenance & More
When the time arrives for your vehicle's routine maintenance, there is no better place to bring your car, truck, or SUV than the service center at Donnell Ford. Whether you need a basic oil change, tire rotation, brake repair, transmission flush, or alignment, our expert service technicians will provide you with efficient and timely service so you can get in, out, and on with your daily routine without skipping a beat! Find Ford repair services right here at the service center of Donnell Ford.
Proudly Serving Drivers in Canfield, East Liverpool, Boardman, Poland, and Austintown with Accurate & Efficient Ford Service - That's the Donnell Difference
Our customers, near and far, know exactly where to find quality prices on new and used vehicles, and when you buy from us, you become part of the Donnell Ford family. But that's not limited to buying or leasing a vehicles, because maintaining the longevity and reliability of your Ford vehicle is of the utmost importance. We know Ford vehicles inside and out, from the Focus to the Escape, F-150, and beyond, and keeping them running optimally is what we at the Donnell Ford service center do best.
When it comes to routine maintenance or repair, our technicians go above and beyond to ensure your car leaves our shop with full functionality and at optimal levels of performance. We care deeply about your safety and well-being on the roadways and that's why we go to great lengths to ensure the full operational integrity of your vehicle before handing back the keys. Our great and trustworthy service is one more way they help our customers throughout their everyday commute.
When it's time for your Ford's service, feel free to schedule an appointment with our professionals by calling (877) 933-0010 or by stopping by our convenient Youngstown location. We are located at 7955 Market Street in Youngstown, OH. We look forward to serving you!
---